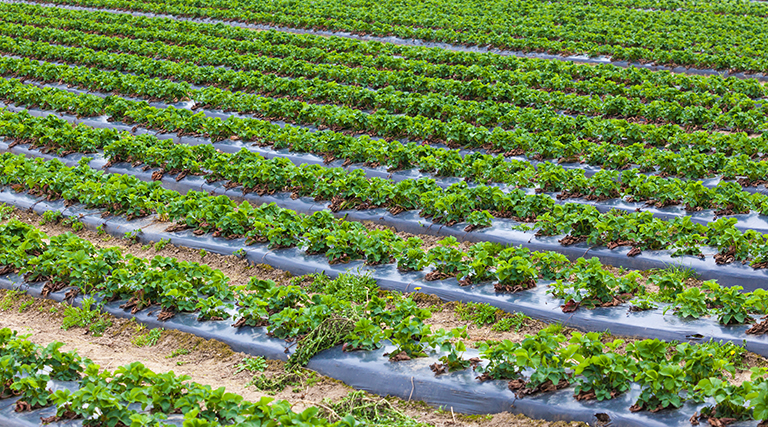 By Ron Morton on May 19, 2020 in Lifestyle
I've planted gardens for many years in several different states. Some years they did really well! We ate fresh veggies, shared lots and canned until we were out of jars. I worked the dirt, ran the tiller, removed the stones, planted the seeds, watered the ground and then watched it grow. I was proud of my well-groomed gardens. Freshly tilled dirt look amazing! The plants grew but the weeds came up alongside. I didn't plant these weeds and they grew faster than the plants. I didn't have time to keep pulling weeds and I didn't want to spray them. The weeds were really getting the best of me and taking over the garden. The good plants were disappearing among the foliage and my hard work dimming from view. The neighbors were no longer impressed and rumors of a garden disaster were surfacing. So after years of traditional gardening in the ground, I'm trying something different using straw bales.
I heard of this straw bale garden system at a Cleveland OH Home Show where we had set up a TapeBuddy drywall tool demo booth. We had a great time sharing how taping drywall was easy and people loved knowing they could tackle their projects themselves. Across the aisle was a gardening seminar so I took a little time to check out the straw bale idea and it was intriguing. When he said plants grew in the rich decomposed bale of straw it sounded great but when he said there were almost no weeds I was hooked. Since I usually look ahead to see the end result I could see a few years down the road the bales falling apart and spreading out all over my lawn. The string holding the bale would rot then what? So at 6:00 one morning I awoke with the solution.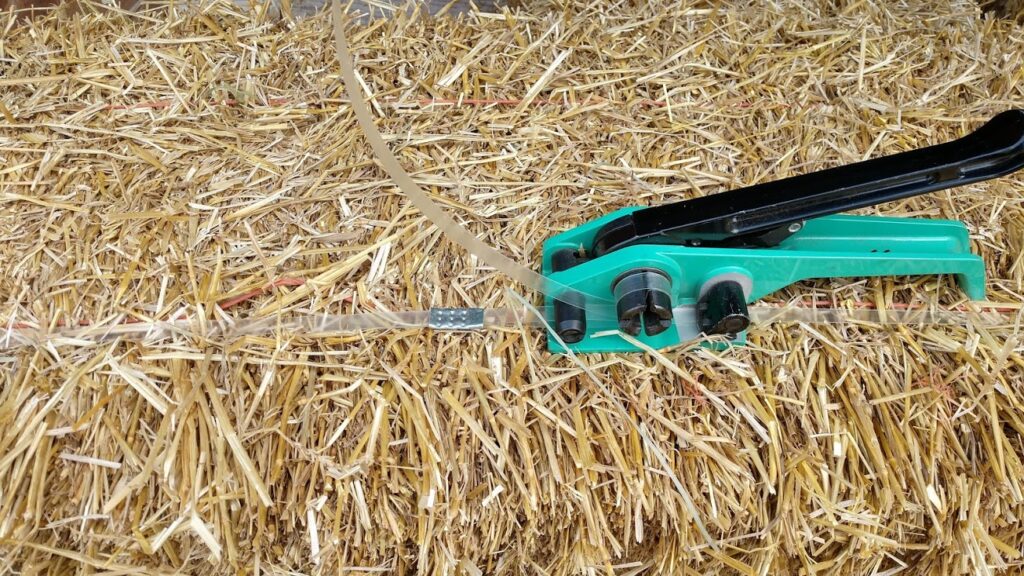 I've invented a lot of things during my sleep and today some of those ideas are patented tools. This was one of these ideas I was ready to try however I'm not going to patent this one. Did you know it costs lots of money to patent ideas? So I'm passing this info along to you. Someone else can put this idea in their book as a lasting solution to a potential problem. I went to our warehouse and brought home nylon banding we use on our pallets to ship tools.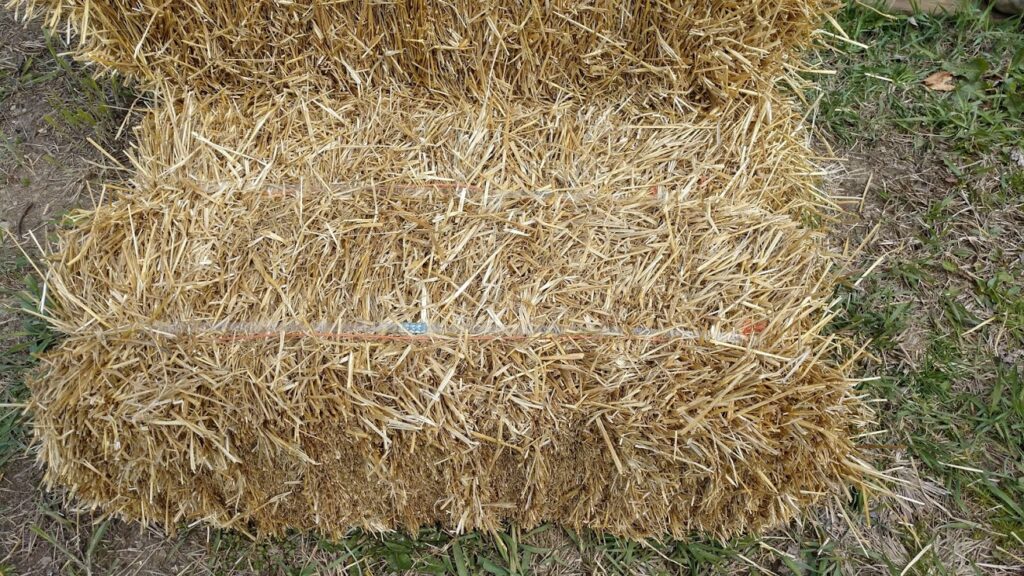 I compressed the bale just a little more but mostly wanted to hold it from opening up. I ran banding around the bales where the string was tied so banded them two times. Simple and lasting. We use galvanized clips that don't rust so now they won't fall apart or so I'll see in a few years. Getting the bale ready for plants is the next step but the bales falling apart has been taken care of.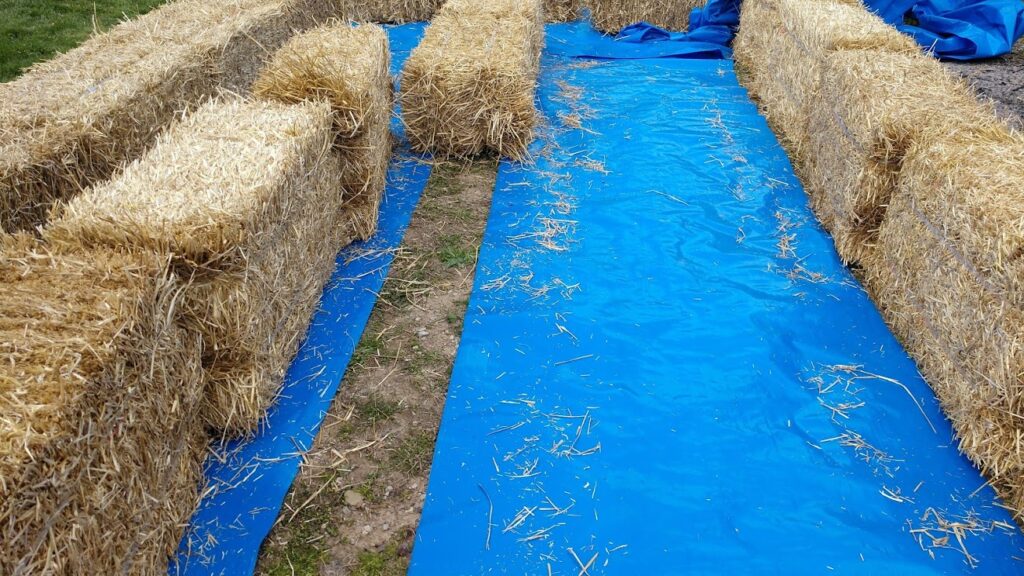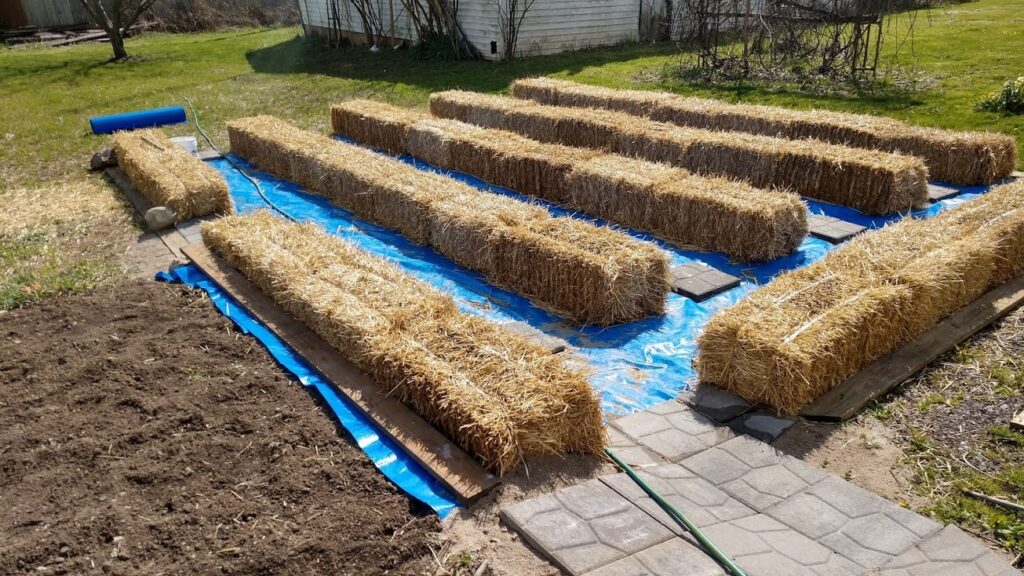 There are a lot of design layout pictures of these gardens you can check out on the internet. I wanted it in full sun and didn't want to till up our yard. Besides the dirt in this area was all clay. To control the weeds I put tarp material down between rows to keep the grass and weeds out. This also conserves ground moisture and eliminates tilling between the rows! I love it! The material was 42" wide so it gives a nice walking path. I laid the bales flat for more surface area. I left a 10" space between the plastic so the bale has contact with the ground for the worms can invade the straw. This leaves 4" of plastic under each side to keep the weeds out. You might try this on your straw bale garden. Now the fun begins.